ABOUT SHE KILLS LIT
Carole Kennedy is an Edgar nominated author and writes under her Irish name, C.S. O'Cinneide (oh-kin-ay-da). Her debut novel, Petra's Ghost, a dark thriller set on the Camino de Santiago, was a semi-finalist in the Goodreads Choice Awards 2019.  She is also the author of a tongue-in-cheek noir crime series featuring hard-living hitwoman, Candace Starr. Starr Sign, the second novel in that series has been nominated for the Mystery Writers of America's coveted Edgar Award for Best Paperback Original. Her most recent novel, Eve's Rib, is a mother-daughter thriller that blends domestic suspense with witchcraft.

On her blog at She Kills Lit, she seeks to spotlight and celebrate women writers of thriller and noir. See here for her manifesto as to why.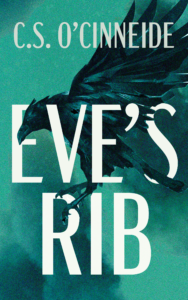 Some things a mother isn't meant to know…
"Timely and tantalizing, C.S. O'Cinneide masterfully blends domestic suspense with a touch of black magic in this bewitching thriller" — Erin Ruddy, author of Tell Me My Name
"Both creepy and atmospheric, with an ending that will haunt the reader far beyond the last page" — S.M. Freedman, award-winning author of  Blood Atonement
After losing her young son in a tragic accident, Eve struggles to protect the one child she has left, a teenage daughter who just might be pure evil.
The dark side of magic is where the Ragman dwells. Nobody knows that better than Eve. Desperate for a child, she called on that cunning conjurer eighteen years ago. Her daughter, Abbey, was the result.
After Abbey's younger brother dies in a fall, Eve fears the worst about her daughter. Five years later, she still battles her guilt and grief over what happened the day she lost her son. Her husband, Richard, doesn't understand. He doesn't know the truth about Abbey; and besides, he has secrets of his own to keep.
But when terrible things begin to happen to those who get in Abbey's way, Eve must overcome her own pain and loss and find the strength to deal with what she fears most — a teenage daughter she can no longer control and a past that could come back to haunt her in the most monstrous of ways.
PRAISE FOR C.S. O'CINNEIDE
THE CANDACE STARR SERIES
Edgar Award Nominee 2022

A cold and gripping crime novel – The Globe and Mail
Candace's appealingly amoral worldview coupled with her vast range of eccentric acquaintances and family is sure to provide more murderous fun as the series develops. – Publishers Weekly, The Starr Sting Scale
The tense, first-person, present-tense narration—and the looming question of the narrator's reliability—ratchets up the suspense, and soon enough we find ourselves all in with Candace, whatever she's up to.  – Booklist
Candace's wryly amusing take on events is perfectly balanced with scenes of chilling action. – Publishers Weekly, Starr Sign
A tough, deadly type who just might surprise you. – Kirkus Reviews
PETRA'S GHOST
Goodreads Choice Awards for Horror 2019 Nominee
C.S. O'Cinneide uses the archaic rituals and settings of the Camino de Santiago pilgrimage in rural Spain, to tell a very modern ghost story. – Toronto Star
Brilliantly and engagingly written, I didn't want the journey to end – Sarah Lotz, author of The Three
In prose as clean as bone, O'Cinneide tells an unsettlingly elegant tale. By turns horrifying and beautiful – Angela Slatter, author of Vigil & Corpselight
A searching exploration of the weight of the past as well as an increasingly tense supernatural thriller, Petra's Ghost dives deep into tragedy and loss and comes up clutching gold – John Langan, author of The Fisherman