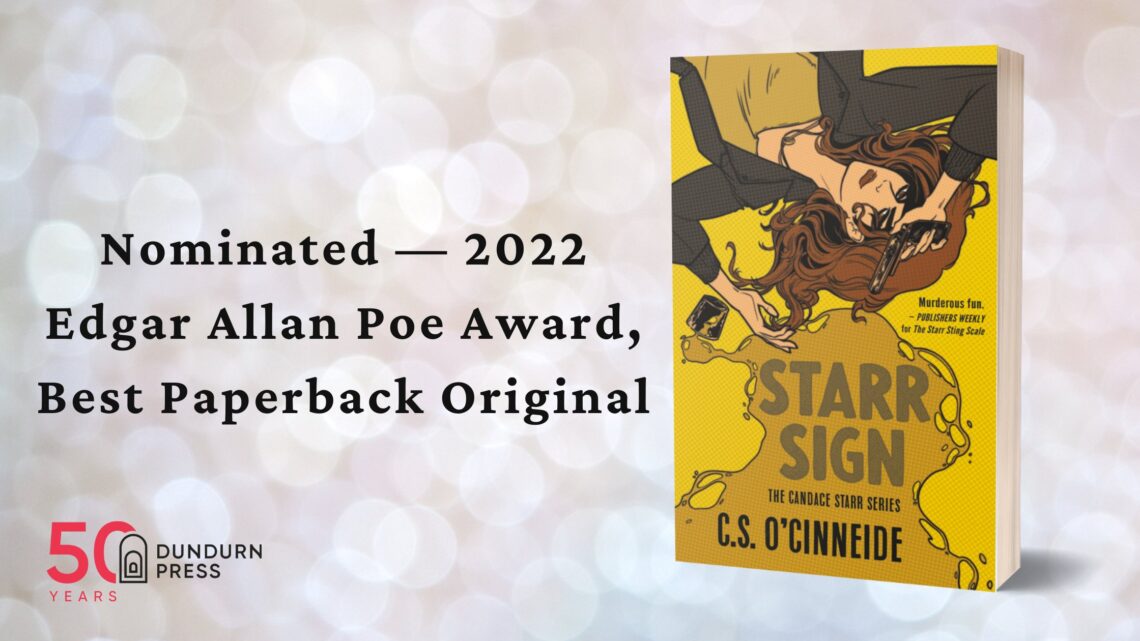 On receiving the Edgar Nom
On Wednesday, I got the shock of my life.
I was on my lunch hour, and I picked up my cell phone to find that my Twitter was blowing up. I assumed at first that it was due to one of those tweets where someone says how much they love and appreciate other people and tags a dozen of them. Then everybody who was tagged Likes it, and you all feel a warm rush of camaraderie and twitterphoria and such. But when I scrolled down to see the source of the Likes I found an announcement by CrimeReads about the Mystery Writers of America's Edgar Award Nominees. That's nice, I thought, that CrimeReads was kind enough to tag me so I could peruse a list of writers who sell way more books than me. But hey, the idea that CrimeReads thought me worthy enough to tag at all was lovely. I clicked on the link, and that's when I saw it.
Starr Sign, the second novel in my Candace Starr Crime Series had been nominated for Best Paperback Original.
I gotta admit, I threw up in my mouth a little bit. Then I thought it was a mistake. Then I looked to see if my publisher knew about it (they didn't). I stood up and did a happy dance at my desk. Then I pulled up the tweet again and gave it a resounding Like.
The Edgar Awards are like the Oscars for mystery writers, except the people aren't as good looking (no offence to my fellow nominees, some of you are stunning, but as a whole we're no Brangelina). I'm the only Canadian in the adult fiction category dominated by big publishers and big names. I'm a little fish in a huge pond and I'm so grateful and blown away that I get to swim for a while with the whale sharks (which apparently are the largest fish in the ocean, and once again no reflection on my fellow nominees).
The Candace Starr Series follows the antics of a hard-drinking, six-foot-three hitwoman named Candace (don't call her Candy) Starr. In the first book, The Starr Sting Scale, she teams up with a female cop, Detective Chien-Shiung Malone to solve a murder that Candace may have committed herself. In the second novel, Starr Sign, Candace's long-lost teenage sister shows up and they go looking for their mother in the Detroit Mob. The first book came out on the eve of the pandemic and the second came out deep in the middle of it. It felt like the only sales I made were to my dad, my best friend, and my dog. And the dog never paid me for it. So, this award nomination means a great deal to me. A real shot in the arm (to add to the two plus booster that I've already had).
So, to all you indie writers out there, I say, "Dream Big," for the tweet that makes you almost throw up is just around the corner.
To the folks at Mystery Writers of America, I say, "Thank you," from the bottom of my hard-boiled crime writer's black heart, and I can't wait to thank you in person in NYC on April 28th at the Awards Banquet (also please note that if you made a mistake it is too late, my husband has already rented a tux)
And to the guy in my creative writing class five years ago, who said, "Do you really think anyone is going to want to read a crime novel about two women?" —-  I say nothing because you are a stupid face.
Wish me luck in April, dear readers!  I'm up against some stiff competition, including C.J. Cooke, the internationally bestselling author of The Lighthouse Witches, who I will be interviewing for my next She Kills Lit blog.