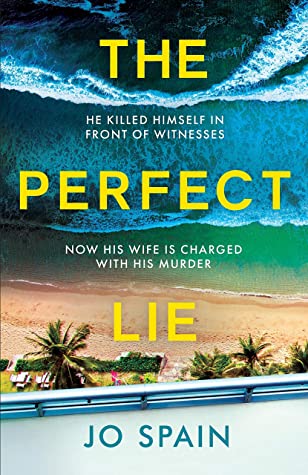 The Perfect Lie by Jo Spain
I'll admit it. Jo Spain had me from the first chapter in her latest thriller, The Perfect Lie, set in Newport, Long Island. Maybe it was the protagonist, Erin Kennedy being an Irish ex-pat. I live with one of those. Which sort of makes me Irish by injection. Or maybe it was Erin's Bellport Bay apartment with its clear view out to Fire Island, where I spent many an unsupervised (read "debauched") summer evenings as a teenager.
Or maybe it was because without warning, shortly after Erin asks her cop-husband, Danny how he wants his eggs for breakfast, he jumps to his death off the balcony.
Yeah, I think it was the last one.
Right out of the gate, Spain gets the action rolling. And if having Erin's husband fly off the balcony before breakfast in Chapter One wasn't enough of a shocker, fast forward eighteen months later to Chapter Two where Erin's being charged with her husband's murder.
What????!!!!!
That's some serious plot thickening, my friend. Especially when Danny jumped in front of a boatload of witnesses. A whole team of his colleagues had arrived at the door just before he took that final fatal step. Which understandably leaves Erin with a lot of unanswered questions. Why were they there? What did they know about her husband? How do they want their eggs?
As a writer, I was impressed with how Spain was able to manage the varying timelines presented in the book without leaving a reader feeling confused or disoriented. This device, when put into skilled hands is an excellent way to dole out clues and reveals in tantalizing bites. The author leaves you a bread trail from the present to the future and it's a tasty way to devour a mystery. But in not-so-skilled hands, it is a frustrating fourth dimension free-for-all that makes you want to throw your Kindle at the cat.  The cat was safe while I was in Jo Spain's capable hands and my e-reader remains intact.
There are many more twists and turns after those two initial chapters. Enough to have kept me hooked to the end even if I hadn't married a guy able to use the word "banjaxed" in a sentence. My only complaint is that Erin never hangs out on Fire Island, which is just a crying shame in my opinion. But I guess she's too busy trying to get off her murder charge and figuring out why the hell her husband would rather kiss pavement than have brunch. So, it's understandable.
A thoroughly enjoyable thriller.
To find out more about Jo Spain and her books, go to her Facebook page at https://www.facebook.com/JoSpainAuthor
About The Author
Carole Kennedy is an Edgar nominated thriller and crime writer who publishes under her Irish name, C.S. O'Cinneide (oh-kin-ay-da). Her novels include the Camino thriller, Petra's Ghost, and the Candace Starr crime series.