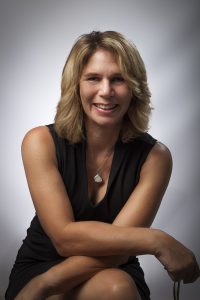 Carole publishes under her Irish name, C.S. O'Cinneide (oh-ki-nay-da). Her writing has been described as "dark humour done well" by Publishers Weekly and "bloody frightening" by her mother. She is an Edgar nominated author for her novel, Starr Sign, and never misses an opportunity to sneak that into a sentence.
Her debut novel, Petra's Ghost, a dark literary thriller set on the Camino de Santiago in Spain  was a semifinalist in the Goodreads Choice Awards 2019. It has been featured in the Toronto Star as one of the best horror books of the summer, as well as being selected by the Library Journal as a Wicked Good Read.
O'Cinneide is also the creator of the sassy, hard-drinking hitwoman character, Candace Starr. The first book in that series, The Starr Sting Scale, was recommended by Publishers Weekly, Booklist, and The Globe and Mail. The second book, Starr Sign, was nominated for the Mystery Writers of America's coveted Edgar Award for Best Paperback Original of 2021.
Host of the book blog,  She Kills Lit,  she features women who write lots of stories that frighten lots of their mothers. In keeping with this, her most recent novel, Eve's Rib, is a mother-daughter thriller that blends domestic suspense with witchcraft.
Born in Toronto, Ontario, Canada  C.S. O'Cinneide attended high schools both in Canada and the United States.  She studied at the University of Toronto in the 1990's while a single parent of two children, graduating With Distinction in Sociology.
After working as an IT analyst for decades, in 2015 O'Cinneide walked the Camino de Santiago, a 500-mile pilgrimage in northern Spain. This experience, as well as the abduction of a female pilgrim at the time, inspired her first novel, Petra's Ghost.
She now lives in Guelph with her husband, an Irish ex-pat who remains her constant muse.
To learn more go to https://shekillslit.com/books/
*Please note that image of author may be used freely in online articles referencing the author professionally.