Some things a mother isn't meant to know…
"Timely and tantalizing, C.S. O'Cinneide masterfully blends domestic suspense with a touch of black magic in this bewitching thriller" — Erin Ruddy, author of Tell Me My Name
"Both creepy and atmospheric, with an ending that will haunt the reader far beyond the last page" — S.M. Freedman, award-winning author of  Blood Atonement
After losing her young son in a tragic accident, Eve struggles to protect the one child she has left, a teenage daughter who just might be pure evil.
The dark side of magic is where the Ragman dwells. Nobody knows that better than Eve. Desperate for a child, she called on that cunning conjurer eighteen years ago. Her daughter, Abbey, was the result.
After Abbey's younger brother dies in a fall, Eve fears the worst about her daughter. Five years later, she still battles her guilt and grief over what happened the day she lost her son. Her husband, Richard, doesn't understand. He doesn't know the truth about Abbey; and besides, he has secrets of his own to keep.
But when terrible things begin to happen to those who get in Abbey's way, Eve must overcome her own pain and loss and find the strength to deal with what she fears most — a teenage daughter she can no longer control and a past that could come back to haunt her in the most monstrous of ways.
The Candace Starr Series
A cold and gripping crime novel – The Globe and Mail

(A) witty series launch…Candace's appealingly amoral worldview coupled with her vast range of eccentric acquaintances and family is sure to provide more murderous fun as the series develops – Publishers Weekly, The Starr Sting Scale
Candace's wryly amusing take on events is perfectly balanced with scenes of chilling action. – Publishers Weekly, Starr Sign
The tense, first-person, present-tense narration—and the looming question of the narrator's reliability—ratchets up the suspense, and soon enough we find ourselves all in with Candace, whatever she's up to. – Booklist
A tough, deadly type who just might surprise you. – Kirkus Reviews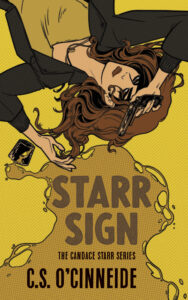 Candace Starr goes searching for her mother in the Detroit mob — but infiltrating her own crime family may be her deadliest assignment ever.
Candace Starr has fallen on hard times since she helped her friend, Detective Malone, with a murder case last year. These days, she trades on her dark celebrity as a former contract killer to keep the wolf from the door and her glass of Scotch whisky full. But when her teenage half-sister, Janet, shows up, Candace finds herself responsible for more than her nightly bar bill.
Candace and Janet's mercurial mother has gone missing while visiting her estranged family of Detroit mobsters, and Candace needs to track her down to take the kid off her hands. But the vicious Scarpello clan is hiding far more than her mother's whereabouts.
Witty, gritty, and full of cocky hard-edged flair, the second book in the Candace Starr series unearths the well-buried secrets of Candace's mob family tree, laying bare the roots of her own identity along the way.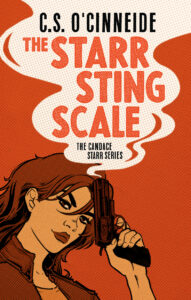 A hard-drinking former hitwoman agrees to help catch a killer, even though the murderer might just be her.
Candace Starr likes to think of herself as retired since she got out of prison. That's until society maven Kristina Corrigan tries to hire her to permanently remove her daughter's barnacle of a boyfriend, Tyler Brent from their lives. The only catch? Tyler is seventeen years old. Even Candace usually draws the line at taking out a target who doesn't shave yet.
But when Tyler turns up dead at a river gorge with a broken neck, people start asking questions. Detective Chien-Shiung Malone, the ambitious cop assigned to the case, has more than a few of her own. Candace is not about to provide any answers though — until Malone makes her a proposition she cannot refuse. Candace signs on as Malone's unofficial partner to find Tyler's murderer, despite the possibility she my have killed the boy herself.
With scandalous wit and cocky satire, the first novel in the Candace Starr series provides full throttle thrills as Starr and Malone race down the dark and dangerous road to the truth. Everyone along for the ride will be scrambling to call shotgun.
Petra's Ghost
Goodreads Choice Award 2019 Nominee
C.S. O'Cinneide uses the archaic rituals and settings of the Camino de Santiago pilgrimage in rural Spain, to tell a very modern ghost story. – Toronto Star
Brilliantly and engagingly written, I didn't want the journey to end – Sarah Lotz, author of The Three
In prose as clean as bone O'Cinneide tells an unsettlingly elegant tale. By turns horrifying and beautiful – Angela Slatter, author of Vigil & Corpselight

A man's pilgrimage becomes something from his darkest nightmares when secrets arise and ghosts haunt his path.
A woman has vanished on the Camino de Santiago, the ancient five-hundred-mile pilgrimage that crosses northern Spain. Daniel, an Irish expat, walks the lonely trail carrying his wife, Petra's, ashes, along with the damning secret of how she really died.
When he teams up to walk with clever California girl Ginny, she seems like the perfect antidote for his grieving heart. But a nightmare figure begins to stalk them, and his mind starts to unravel from the horror of things he cannot explain.
Unexpected twists and turns echo the path of the ancient trail they walk upon. The lines start to blur between reality and madness, between truth and the lies we tell ourselves.