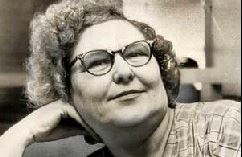 True Crime – Nannie Doss, the Giggling Grannie
Nannie Doss, born Nancy Hazel in Blue Mountain, Alabama in 1905, murdered so many people I had to make a chart to keep it all straight. Dubbed the Giggling Grannie and the Jolly Widow due to her gleeful laughter as she recounted her crimes, at first look she doesn't look the part of a serial killer. A chubby, bespectacled woman, she had a lifelong fascination with true romance magazines and in particular, the lovelorn columns. For those born after the invention of the DVD, this column was the equivalent of Tinder, except the participants sought marriage rather than a stand-up quickie in a Starbuck's washroom. If Nannie were alive today, she would have spent a better part of her life swiping right. She killed four out of five of her husbands and was constantly looking for a new mate, or in her case, victim.
The first mysterious deaths that happened around Nannie appear to have been her own offspring. After marrying young and birthing four children in as many years, Nannie's two middle children both died of food poisoning. Whether it was Nannie herself that ended their lives or whether this just gave her the idea that food was a good way to do away with people who were perfectly fine at breakfast time, we don't know. She never admitted to it. Infanticide is a tough confession to giggle through. What we do know is that by 1929 she had divorced Charles Braggs, her first husband, or as he is better known, the one that got away.
Then came Frank Harrelson, Husband #2. He was a notorious drinker and when he died after sixteen years of abusive marriage with Nannie,  the coroner wrote up his death as caused by Acute Alcoholism, which was in a roundabout way correct. He had buried his coveted "whiskey in a jar" in the backyard and Nannie found it. She dug it up and laced it with arsenic, thereby forever ruining the that great Irish tune for him.
In 1947, she married Arlie Lanning a matter of days after meeting him through a matchmaking group, where she had also met Harrelson. By then, Nannie had transferred her addiction from true romance magazines to the new medium of television which she watched religiously for the soppy soaps. After Arlie fell ill and died in 1950, their house burned down and Nannie got a great insurance settlement for both.  Funny that the television was in the back seat of her car the day of the fire, seemingly to be taken for repairs. (Note to self: When planning arson make sure to save the TV).
By 1952 and Nannie has married Richard Morton who she met through the Diamond Circle Club, another organization for those looking for true love.  This husband only lasted four months and might have not lasted that long if it had not been for the unexpected arrival of Nannie's mother, Lou who came by for Christmas and was pushing up daisies before anyone welched on their New Year's resolutions. When this husband died, Nannie had managed to take out five life insurance policies on him, so she probably bought a new TV.
Not one for lengthy mourning, Nannie was remarried within a year to Samuel Doss in late 1953. If you were to consult my chart this is Husband #5. Guess what? He fell ill in 1954, and had a month's long hospital stay for acute gastric distress. Luckily, his doctor found his illness distressing enough to order an autopsy when he died shortly after discharge.  Nannie actually signed off on it. This, despite the fact that she had sprinkled a liberal amount of rat poison in a dish of prunes she had fed him with coffee. Poor sod, he was never regular again.
So when Doss' autopsy came back showing a belly filled with enough arsenic to kill ten people, police started getting interested. The fact that the police were not interested prior to this sort of blows my mind. At first Nannie denied everything. But eventually, she confessed to her marital murdering spree, amidst giggles and "amusing" anecdotes. She said one of the reasons she killed Doss was because he wouldn't let her watch TV.  But having been married twenty years myself, I wonder if it was because he wouldn't let her have the remote.
Bodies were exhumed, more bellies full of far too much poison were discovered. Including various family members I didn't even bother to mention here.  But Nannie was only charged and tried for Doss' murder. They really only needed one to put her away for life. She was saved from the death penalty due to her gender. About the only thing women were saved from in the mid 1950, besides a life of drudgery wearing pearls as they vacuumed the cat.
Nannie Doss died of leukemia in prison in 1965. She said all she was ever trying to do was find true love. Although she did often blame the murders on a nasty bang on the head she received as a child. I had a bad concussion last year and can definitely sympathize, although I managed to keep the rat poison out of my husband's prunes.
But then again, he just stole the remote again. If he switches the channel from Grace and Frankie he is taking his life into his own hands. True love only lasts as long as a husband does, but TV? Now that's forever.