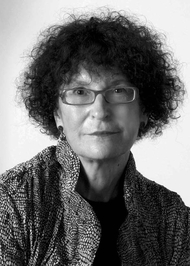 Interview with Erika Rummel
Bio
Erika Rummel has taught history at the University of Toronto and Wilfrid Laurier U. She divides her time between Toronto and Los Angeles and has lived in villages in Argentina, Rumania, and Bulgaria. With more than a dozen published books on social and intellectual history, she is also the author of five thrilling fiction novels, Playing Naomi, Head Games, The Inquisitor's Niece, The Effects of Isolation on the Brain, and The Painting on Auerperg's Wall (2018). She was awarded the Random House Creative Writing Award, 2011, for an excerpt from The Effects of Isolation on the Brain.

I understand you "commuted" between Argentina and Toronto for several years. What was that like,and did you get caught in traffic on the 401 in the morning?
Commuting to Argentina (before email, smart phone, andwheeled luggage) was problematic. I had to change planes in Miami and again in Buenos Aires. It meant a lot of schlepping. In Miami I had to wrangle my suitcase up a narrow (single width!)escalator to the departure gate. In Buenos Aires, I had to change from the international to the inland airport, half an hour's ride through heavy traffic.The wrangle here was with the taxi driver trying to stiff me. Argentina was plagued by super-inflation then, so that the fare amounted to several hundred thousand pesos. Since you would have needed another suitcase to carry enough pesos to get you through the day, transactions were usually conducted in dollars. Great opportunity to get cheated on the exchange rate, which changed daily!
You write both fiction and non-fiction. Which do you prefer?
I prefer fiction, by far. It's so much easier to make the stuff up than to do all that tedious research. But seriously: The sources are limited, and the historical characters come alive only when you put words into their mouths. If an author has done her research, like Hillary Mantel, my favourite historical novelist, the result is a fuller and more engaging account than any textbook can provide. It allows us to reflect on history in a way that is meaningful to our life today. As they say, those who don't remember the past are condemned to repeat it! The way I see it, historical novels can provide a gateway to history.
In The Inquisitor's Niece, a Jew must pretend to by a Catholic to remain within the law in 16th century Spain. In Head Games and The Effects of Isolation on the Brain, many characters are actively role playing. Liz, the protagonist in Playing Naomi is hired to impersonate the reclusive author, Naomi Baum. And in your most recent novel, The Painting on Auerperg's Wall, Zoltan must deal with "slippery identities." Your novels seem to have an underlying theme of people who are not who they claim to be. Where do you think that comes from?
I have always been fascinated by the question "What is Truth?" Can we discern it or do we see everything through the prism of our own experience, i.e. distorted. The dichotomy between seeming and being invites a philosophical discussion, but it also has the makings of a good mystery, don't you think?
I am fascinated by the title of one of your non-fiction books, Scheming Papists and Lutheran Fools, that features the satire of 16thcentury reformists. How do these guys compare to, let's say, The Beaverton and The Onion? Do any of the theologians they make fun of have orange faces and ridiculous hair? Extra points if you cantell us the Renaissance version of Twitter.
Those guys in the 16th century were every bit as funny as contemporary writers, but satire is always topical, and if you don't know the historical context, you don't get the jokes. I used to do an exercise with my students: I let them read a page of Philip Roth's Our Gang, a satire on Nixon, and asked them to identify the protagonist. Quite a few guessed correctly that it was Nixon, but no one ever guessed that it was a satire. They thought it was an actual speech he gave. So,satires are ephemeral, and the point is easily lost.
The 16th century satirists, by the way, were on the cutting edge of technology in their time. They used print! For the first time in history it was possible to air your opinions, spread them effectively,and influence a large number of people. Those fly-by-night anonymous publications were the bane of the censors. A bit like Tweets and other social media messages today. Mind you, in the eyes of theologians, satirists were probably the equivalent of cyber-bullies!
You have riffed on personal and professional experience to develop your fiction in the past. Head Games is set in Argentina, Playing Naomi in Los Angeles, where you also lived for several years. The Inquisitor's Niece grew out of research you did for a biography of Ximenes, the 16th century Inquisitor General. Where did you get yourinspiration for The Painting on Auerperg's Wall?
The original inspiration for The Painting on Auerperg's Wall were the court records for the suit brought by Altmann against Austria (2004)to recover the famous Klimt painting belonging to her aunt. But by the time I finished my novel, it was far removed from those beginnings. It turned into what one reviewer termed a"psychological thriller", that is, no longer just about the horrors and the injustice inflicted by authoritarian regimes, but also about my favourite theme: "Now you see it, now you don't." Neither the characters nor the painting are what they appear to be. In fact, Zoltan, the main character, has no understanding of who he is, and thereby hangs a tale.
Did you ever have a personal encounter with a famous star in LA? Extra points here for how personal.
I did – twice — but I don't watch TV and am a Luddite when it comes to celebrity culture. So both times I missed my chance to latch on to a celeb. The first time I was working at the Getty and had the privilege of bringing friends into the museum on Mondays when it was closed to the public. A friend of mine came with his nephew., I asked the nephew what he did for a living. He kindly explained that he was starring in Melrose Place. That was Rob Estes.
Second encounter: I rented the upstairs of a house in Santa Monica. The downstairs was rented out short-term, which was a pain because the driveway configuration was such that if the downstairs tenant didn't park all the way over to one side, I was blocked. The new tenant was a good-looking guy with a shock of white hair. He turned out to be very considerate and kept to his side when I asked him. That was John Slattery of Madmen. He probably thought I was really cool because I didn't gush or ask him for an autograph.
Each of your novels seem to have a love story buried within them. Are you a romantic at heart?
Yes, I am a romantic at heart although most of the time I am in denial. Okay, disclosure: for some years I was a member of Romance Writers of America, and one year I even was a preliminary judge and read a whole slew of romances. My favourite writer (or let's say, my favourite home page) is Brighton Walsh. You can't beat her logo for ad appeal: "Sassy. Sexy. Flirty.Dirty."
Have you ever read a Harlequin style bodice-ripper and if so which one? All sorts of points if Fabio was on the cover.
No comment.
Alfred Nobel, the man who founded the well-known prize, also had some dynamite affairs (that's a joke, people, google it). Tell us about the latest novel you have in the works,Three Women and Alfred Nobel.
Some years ago I read a biography of Nobel which quoted from letters to his Viennese lover – with many elision points. I wondered what the author had left out and requested copies of the complete correspondence from the National Archive in Stockholm. The file had been kept under wraps for along time by the Nobel Foundation because it showed Nobel in a less than flattering light (grouchy, controlling, anti-Semitic). Those documents turned out to be the stuff novels are made of. So I crafted a story: Nobel through the eyes of three women — the woman who loved him, the woman who inspired the Nobel Peace Prize, and (an invented character) the woman who wanted to expose him as an unscrupulous businessman and "merchant of death". But since I had to work through Nobel's correspondence first, I thought I might as well publish that too. Thus, one source yielded two books: non-fiction (A Nobel Affair, U of T Press 2017) and fiction (Three Women and Alfred Nobel, forthcoming from Endeavour).
If you could have drinks with one famous historical figure, who would it be and why?
The Bronte sisters – I saw a rather bloodless play about them in Stratford last month (Bronte: The World Without by Jordi Mand). Surely the women who conceived characters like Rochester and Huntington were capable of livelier dialogue that Mand offers us. And I wonder what they would think of the contemporary publishing scene. Charlotte Bronte wrote that they adopted male pseudonyms because "we had a vague impression that authoresses are liable to be looked on with prejudice."It was hard to get published as a woman then. Well, today it's hard to get published, period. Maybe I could invite their brother Branwell to the party,too. He was the kind who enjoyed a drink… or two… or three. In Mand's play he is kept backstage — unfairly, I thought. She gave him only one "line": a drunken burp.
To learn more about this fascinating author and her books, go to http://erikarummel.com/

About The Author
Carole Kennedy is an Edgar nominated thriller and crime writer who publishes under her Irish name, C.S. O'Cinneide (oh-kin-ay-da). Her novels include the Camino thriller, Petra's Ghost, and the Candace Starr crime series.