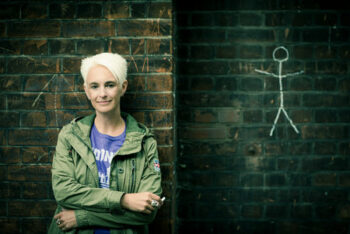 Interview with C.J. Tudor
Bio
J. Tudor is the author of The Chalk Man, and lives in Nottingham, England, with her partner and three-year-old daughter. Over the years she has worked as a copywriter, television presenter, voice-over artist, and dog walker. She is now thrilled to be able to write full-time, and doesn't miss chasing wet dogs through muddy fields all that much
Stephen King tweeted an endorsement of your novel, The Chalk Man, comparing it to his own venerable works. How did that feel? (NB- expletives and extraneous exclamation points allowed)
Bloody amazing! Total dream come true stuff. Stephen King has been my hero since I was twelve years old. The Chalk Man is basically a homage to King and all the books and films that I loved as an awkward teen in the 80s. It made me so happy that he got that – oh, and he told me that I 'rock'. Totally going on my headstone!
Your latest novel, The Taking of Annie Thorne (titled The Hiding Place in North America) as well as The Chalk Man both have characters returning to the events of their youth for the solving of mysteries and ultimately redemption.  What mystery of your own youth would you like to solve and since it was the 80's does it include absolution for having far too big hair?
Hmmm. Why were white socks and too short trousers ever acceptable? See also – rat tails. I had a very bad perm in the 80s. I'd asked for a shaggy perm but I ended up with a total frizzy granny perm. I was mortified. In fact, thanks to Sun-In and dodgy perms I had pretty awful hair throughout the 80s!
I've watched videos of you online and you are not in the least bit creepy. Where do you mine the dark and sinister subjects of your novels from? 
I'm not sure. I've always loved creepy stories, ever since I was a kid. I blame Scooby Doo! It's funny though, I know a lot of crime writers and they are all the loveliest people, yet we write this really dark stuff. Perhaps that's the key – we get all the bad thoughts out on the page, like purging ourselves or something!
Tell us about your upcoming book, The Other People, due out in February 2020. 
Okay . . .
'Driving home one night, stuck behind a rusty old car, Gabe sees a little girl's face appear in the rear window.
She mouths one word: 'Daddy.'
It's his five-year-old daughter, Izzy.
He never sees her again.
Three years later, Gabe spends his days and nights travelling up and down the motorway, searching for the car that took his daughter, refusing to give up hope, even though most people believe that Izzy is dead.
Fran and her daughter, Alice, also put in a lot of miles on the motorway. Not searching. But running. Trying to keep one step ahead of the people who want to hurt them.
Because Fran knows the truth. She knows what really happened to Gabe's daughter. She knows who is responsible. And she knows what they will do if they ever catch up with her and Alice . . .'
I actually had the idea when I was driving home one night, stuck in traffic and I started thinking what would happen if a face popped up in the rear window of the car in front. What if it was someone I knew? What if they were being kidnapped? And then, what if it was my own daughter?
In the early nineties, you worked as a television presenter interviewing famous types. I understand you asked Tim Robbins about Susan Sarandon's breasts and got a peek at Robert Downey Junior's chest. Of all of your guests, who did you enjoy meeting the most and why?
Well, Robert Downey Junior wasn't too shabby! Also, Sigourney Weaver was incredibly lovely – real fan girl moment there. But the very best had to be Robin Williams. So funny, generous and brilliant. I feel very privileged I had the opportunity to meet him.
There seems to be a resurgence of frightening stories involving kids these days. The revamping of Stephen King's IT. The popularity of TV series like Stranger Things. Your novels tend to centre around young people in terrifying circumstances as well.  Where do you think this trend is coming from and why do you think it is resonating so much with the public right now?
I think every decade has a resurgence and currently it's the 80s. Obviously Stranger Things, very much like The Chalk Man, is a homage to the books and films of that decade – when horror was big!
I was a teenager in the 80s so it's a very vivid time for me. But the 80s were also a time of great fear (the cold war, nuclear weapons) and I think we're in a similar place now – turbulent, frightening and uncertain. Perhaps, in a weird way, stories about kids defeating evil monsters are kind of comforting.
In your work in radio, you used to do voice-overs. I looked that up and found it is not like Ellen being Dory in the cartoon Finding Nemo, but it is a type of performance.  Are you a closet actor?
Christ, no! My voiceovers were strictly of the, 'Come along to the family fun day' variety. I think most authors live in a type of fantasy world. We inhabit different people through the characters we create. But you only have to hear some of us read from our own books to know that we are definitely not actors!
What book(s) are you reading right now and do any of them scare you?
I've just finished Golden State by Ben H. Winters and next up is A Cosmology of Monsters by Shaun Hamill which I have heard very good things about. Books don't generally scare me. Or perhaps I'm too busy thinking: 'Yeah, that was good creeping out' to be really scared!
Okay, I just can't get the Finding Nemo thing out of my mind. If you were a cartoon character, which one would you be?
Tank Girl – because of the hair . . . and because she kicks ass.
For more about C.J. Tudor, go to https://www.penguinrandomhouse.com/authors/2149259/c-j-tudor