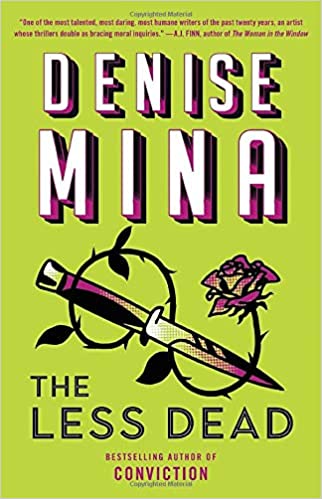 The Less Dead by Denise Mina
My mother used to work as a social worker, reuniting adult adoptive children with their natural parents. She'd be the first to tell you that those reunions can be wonderfully rewarding. They can also be a complete flippin' disaster. That's the thing with birth families, just like Forest Gump's iconic box of chocolates, "you never know what you're gonna get."
Denise Mina's new novel, The Less Dead, opens with Dr. Margo Dunlop waiting to meet Nikki, her birth mother's sister.  Nikki is almost two hours late, and when she does arrive, she is nothing like what the good doctor thought she was "gonna get." NIkki is a recovered addict and a former sex worker.  Margo, with her middle-class upbringing, is shocked by almost everything about her, from her dark past to her unfashionable track suit. But she is even more shocked by what Nikki has to tell her. Margo's birth mother, Susan, also in the sex trade, was murdered soon after Margo was born, and her aunt wants her help to catch the guy who did it. Nikki believes the culprit is being protected through an elaborate conspiracy. Margo thinks that Nikki is quite possibly bonkers.
But as time goes on, Margo discovers there is more to Nikki's suspicions than she originally thought, and ultimately, more to Nikki. The author takes full advantage of the opportunity to expose and examine class differences in this novel. This is not something new for her. As an author, Mina has never shied away from showing us the unvarnished lives of some of the most disadvantaged and disenfranchised of Glasgow.  But with upper middle-class Margo, we get a chance to view this world through more privileged eyes, and perhaps feel some of the scales fall from them.
Social justice issues aside, this is a wonderfully paced, riveting mystery, that will keep you hooked stronger than a brown trout caught out in the River Clyde.  Mina isn't called the Queen of Tartan Noir for nothing. She doesn't need to interrupt her narrative to preach her deeper message. Her finely wrought characters and settings speak for themselves.  And if their voices help you to question why so many "lesser" women die violent deaths every year, then that's an excellent bi-product of a gripping whodunit. Life is a box of chocolates rife with inequities, sister. Take a bite from Nikki and Susan's side of the street, and see what you get.
About The Author
Carole Kennedy is an Edgar nominated thriller and crime writer who publishes under her Irish name, C.S. O'Cinneide (oh-kin-ay-da). Her novels include the Camino thriller, Petra's Ghost, and the Candace Starr crime series.