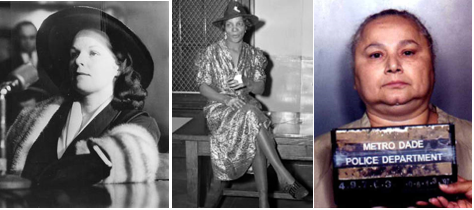 Women in the Mob
In Starr Sign, my second novel in the Candace Starr Crime Series, Candace infiltrates her estranged Detroit mafia family, the Scarpellos, in search of her mother, Angela.
In honour of the fictitious Scarpello clan (and Candace), I bring you some real-life women who made their mark in the male-dominated world of organized crime.
Virginia Hill
Described by Time magazine in 1951 as the "queen of the gangsters' molls," Virginia Hill was trustfully employed and regularly knocking boots with a stunning array of hardened American mobsters during the 1930s and 1940s. Charles "Lucky" Luciano, Meyer Lansky, Frank Costello, Anthony Accardo, Jake Guzik, Murray Humphreys, Charles Fischetti, Jack Dragna, and Joe Adonis were just some of the mafia made men and bosses who took advantage of her top-notch abilities as a money launderer, cash courier and Mexican heroin trafficker. But Hill is perhaps best known as the main squeeze of Flamingo Casino owner, Benjamin "Bugsy" Siegel, who was assassinated in her home in 1947 while she conveniently took an impromptu visit to Paris. Testifying as part of the U.S. Senate's Kefauver Committee's investigation into organized crime in 1951, she claimed to have been in her hotel room at the Flamingo Hotel whenever Siegal conducted his underworld business. "I didn't ever go out. … I had hay fever. I was allergic to the cactus."
In 1954, Virginia Hill fled to Europe to avoid the IRS and possible further contact with cacti. She died of an apparent drug overdose in Austria in 1965.
Stephanie St. Clair
The head of an organized crime syndicate in Harlem during the prohibition era, Stephanie St. Clair primarily ran a numbers racket that looks suspiciously like the modern-day racket we call the lottery. In 1930, she was reportedly worth $300,000, an amount that could purchase over four million dollars of scratch tickets today. St. Clair used some of her wealth to take out ads in the local newspaper advising Harlem residents of their rights and calling out police brutality of the black community. As an African-American woman at this time in history, she was particularly remarkable for her maintenance of autonomy, never to be controlled by the powerful Italian-American or Jewish family run mafia outfits active in NYC. As prohibition came to an end, Bronx based mob boss Dutch Schultz went to war with her, but she never relented. When Schultz was murdered by a mafia directed hit in 1935, St. Clair infamously sent a telegram to his bed that read "As ye sow, so shall ye reap."
Stephanie St. Clair eventually sewed legitimate business enterprises rather than criminal ones. She reaped fairly well, dying quietly as a wealthy woman shortly before her 73rd birthday in 1969.
Griselda Blanco
Depicted by Catherine Zeta-Jones in the biographical crime drama, Cocaine Godmother, Miami-based Griselda Blanco was responsible for the importation of over a billion dollars' worth of narcotics and up to two thousand murders during her bloody reign.  The first-ever female organized crime billionaire, she counted among her possessions an emerald and gold MAC-10 machine pistol, Eva Perón's pearls, and a tea set once used by the Queen of England.  Blanco designed special compartments to hide cocaine in women's underwear and apparently liked a good party where participants didn't wear any.
In the mid-eighties, Blanco was finally arrested and convicted of drug offenses. While still serving her sentence, she was charged with three murders, but the case fell apart due to a telephone sex scandal involving the star witness and employees of the District Attorney's office. This was the 1990's and they hadn't figured out sexting yet.
In 2004, Griselda Blanco was released from prison and deported to Columbia. Eight years later, she was gunned down there in a butcher's shop, which given her violent past, has a certain degree of irony to it.
---
Starr Sign: The Candace Starr Series will be released in Canada on March 9th, 2021, and in the United States and the UK in April of the same year. To find out more about the books by C.S. O'Cinneide, please go here.
REFERENCES
https://themobmuseum.org/blog/top-5-women-of-organized-crime/
https://en.wikipedia.org/wiki/Virginia_Hill
https://en.wikipedia.org/wiki/Stephanie_St._Clair
https://www.blackpast.org/african-american-history/st-clair-stephanie-1886-1969/
https://en.wikipedia.org/wiki/Griselda_Blanco