June 5, 2015
As I write, Camino Julie is using her superior espanol abilities to try and book us a room in a Casa Rural for tomorrow night. We usually stay in the pilgrim albergues but I figure I am allowed a couple "Get out of Hostel free" cards on this trip and I intend to play one tomorrow. It will be a 29 km hike straight up with temperatures in the 30's, the sole of my boot needs duct tape to stay attached,  and I want just one day where I won't have to deal with middle aged snoring men who strut around the co-ed bathroom in bikini underwear smelling worse than my stinky cheese.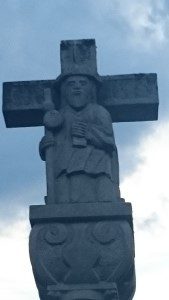 We have a very cool albergue tonight in Villafranca, where the town is not only built into the mountains but so is our albergue (see photo below). There is a waterfall outside my window and so far no stinky men. Life is good.
But I still want my own bathroom.