May 18, 2015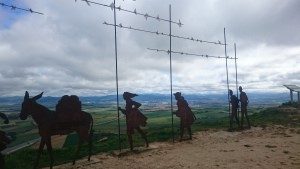 Hiked up to the Alto del Perdon (or The Hill of Forgiveness) where metal statues of pilgrims form a stark backdrop to the vista below. I didn't stay long enough to be forgiven I think because the wind was so strong it threatened to blow me off the top into the valley below. Possibly in a divine act of atonement. Enough said.
I left my friend Mark from England (not to be confused with Mark from Malta) on the main route and took an optional side trail to the Church of Santa Maria de Eunate (because why do 800 kilometers when you can do 803). Cool Romanesque church built in the 12th century with ties to the Knights Templar, famous for being killed off in one feel swoop by Vatican types on Friday the 13th. Thus the association with it being a day of bad luck. Clearly not a good day for the Knights, that's for sure. I went into the little church and lit two candles. Many of you will know who they are for.
Reunited at the Albergue with not only Mark from England but also "This is the Last Hill" Kirk there was much rejoicing and beer bought from the vending machine. Sadly, with wifi connection came bad news from back home. Kirk's mom had passed away unexpectedly. We just put him on a bus for Madrid. I folded his laundry. Mark took his hiking sticks. We are all very sad for our Camino friend who has been with us since Day 1 in St. Jean-Pied-de-Port.
God's speed Kirk. I will light a candle for your mother too.