May 19, 2015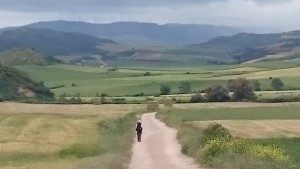 Today was only about 20 km, almost entirely walking through vineyards and farmland. An easy day after the marathon walk yesterday.
There are people here that have already had to take rest days due to bad knees or foot problems. A couple of nights back I saw a guy with one blister that covered the entire bottom of his foot. His girlfriend was taking a picture of it and posting it on Instagram. Nice girl.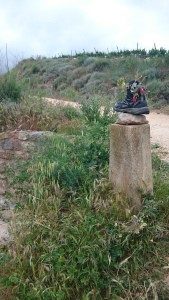 I have blessedly been blister and injury free. Some days I think I can walk forever,  but I try to pace myself. I don't want to tempt fate. You know fate, she hates a tease.
While others are mailing home half the contents of their backpacks, I am adding things to mine. I had to buy a sleeping bag after freezing my ass off the first couple of nights. It was either that or get a whole lot more friendlier with some of my bunk mates. I also had something unexpected happen and found myself in the farmacia trying desparately to buy supplies in Spanish. Finally I said "para la mujer"  (for the woman) with a sheepish look on my face. She got it. You probably have now too.
The albergue tonight is not as nice as last night. There is a homeless guy sleeping across from me. I was thinking of moving to alternate accommodation but then I decided maybe I would buy him dinner instead. I figure this is more in keeping with The Way of St. James. Although if he and the other men in my room don't stop snoring soon I will smother them all  with my microtowel.