May 20, 2015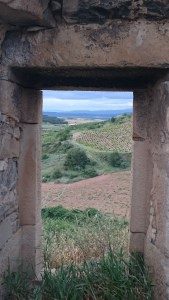 Last night had a Spanish lesson from fellow pilgrim and native Spaniard, Clementino. Learned how to order tapas and the best wine. Best wine is from last year or "del ano" but you have to pronounce it right or it means "wine of my butthole."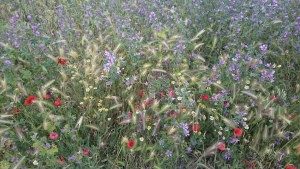 When I am not learning Spanish I am marveling at the beautiful wildflowers that predominate this landscape. The fragrance is intoxicating. Either that or my shampoo has exploded in my backpack.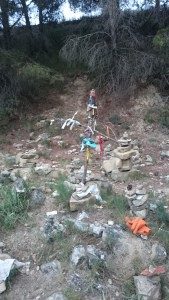 It was a long day today, 34 km, but when I wasn't stopping to smell the flowers, I stopped at this small shrine. Everywhere people had left little notes with what they call "intentions" at the base of the rather crude cross. I tore out a piece of my guide book and pondered what to write. A letter to God? A blessing for those I know who need healing? A quote from the bible? In the end I just jotted down three words.
Love. Compassion. Forgiveness.
These are my intentions.