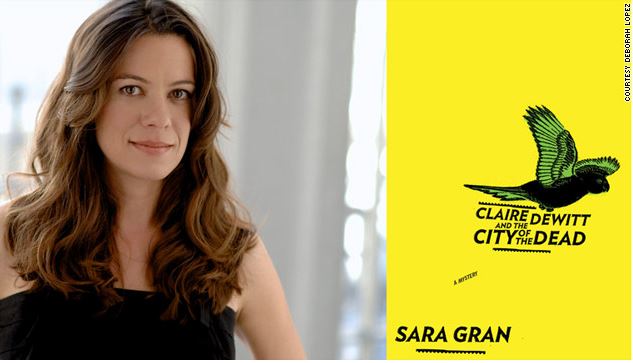 Claire DeWitt and the City of the Dead —- Sara Gran
At first I didn't think I'd like this book.
And then I LOVED it.
Claire DeWitt is world's greatest PI, which is hard to believe since she spends a lot of her time stoned or tossing I Ching Hexagrams coins to figure out what to do next. She has been described as a cross between Nancy Drew and Sid Vicious.  But her bizarre "let the mystery solve me" type of approach is so fresh and weird I found myself turning down page after page to mark the quotes I wanted to remember. And I don't just mean mention-to-your-husband-after-dinner remember. I mean put-on-a-laminated-sticky-note-and-permanently-affix-to-your-bathroom-mirror remember. Things like "Truth is just like your car keys, always in the last place you look." That is some serious Zen shit, my friend.
Set against the backdrop of post-flood New Orleans, Sara Gran paints a picture of a bleak crumbling city in a full-on state of PTSD. The usual social ills of any large American urban centre are made even grittier and morally ambiguous by the disaster, as if the city had its soul broken along with the levee.
Claire is hired to find District Attorney Vic Willing, missing since the flood. Since a lot of people went missing around that time, it hasn't got a great deal of attention from the police (Note to self – take advantage of natural disasters to commit the perfect murder). Claire follows the teachings of the mysterious French Detective Frank Silette to solve the case, and knows word for word his handbook, Détection that she keeps with her at all times. She found it in an attic with her two best friends when they were children.  Of those two friends, one disappeared, and the other has become pathologically obsessed.   I guess Claire was the high achiever of the group.
I binge read this novel, not because the mystery was so compelling, but because the main character was so wonderfully complex and unique. Claire DeWitt is brilliant, funny, and has nerves that would give steel a run for its money. But she is also so utterly and completely screwed up. She uses prophetic dreams and mind-expanding drugs to find the clues and reminds us always that no one who hires you for a mystery ever really wants you to solve it. With such a rich setting and cast of characters, I didn't want her to solve it either, because that would mean the book would be over.
But to quote Claire DeWitt:
"Nothing ever really ends. The fat lady never really sings her last song. She only changes costumes and goes on to the next show. It's just a matter of when you stop watching. "
Read this book and continue watching for this author.
Here's her website.