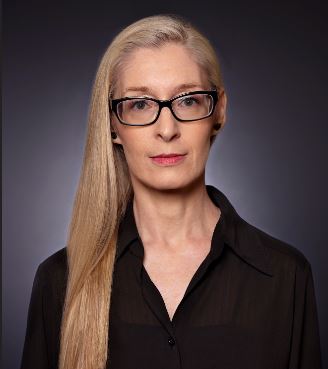 Interview with Lisa de Nikolits
Originally from South Africa, Lisa de Nikolits has lived in Canada since 2000. Her body of work includes both novels and short stories. She is a multiple Independent Publisher Book Award winner and has appeared on recommended reading lists for both Open Book Toronto and the 49th Shelf, as well as being chosen as a Chatelaine Editor's Pick and a Canadian Living Magazine Must Read. No Fury Like That, which was published in Fall 2017, is her seventh novel and has received glowing reviews. Her next novel, Rotten Peaches will be published in the fall of 2018.
What brought you to Canada? I mean, we are like the Joe Cool of countries, but inquiring minds want to know.
Canada totally is the Joe Cool of countries! Well, there I was, living in Sydney, Australia, where I lived for two years (I'm originally from Johannesburg, South Africa) and Australia simply wasn't agreeing with me! I thought the Aussies would be loud, warm, happy, welcoming people (you know, like South Africans!) but they were an uptight, humourless, rule-abiding prim lot (I know, readers will think you can't be serious – but seriously, yes, they're so rigid!)
I was working for Cosmopolitan and SHE magazines at the time and I was looking for an image from an Image Bank catalogue (this was in 1998 before the entire world went digital) and I came across a photo of the CN Tower. And I thought hey… don't I have a cousin there? Didn't we exchange letters throughout most of our childhood and teen years, happy missives covered with stickers of unicorns and rainbows?
I rushed over to my computer and fired off an email to said cousin, asking her if I could come and hang out on her sofa for a while. I bought a round-the-world ticket because I really had no idea what would happen and then I simply stayed! My poor cousin. I camped in her living room, played the eerie and maudlin soundtrack from The Virgin Suicides on repeat (for weeks), ate all her cherry yoghurts and lost half her socks in the wash. I'm really not sure why she didn't kick me out!
No Fury like That has been described as The Devil wears Prada caught in a Sartre's play. How did your background as an art director for major magazines like Vogue and Marie Claire influence that?
Magazines have been a great influence and a great source of material. I've never used any one person as a base for a character but certainly the environment has been conducive to many an idea! It hasn't always been easy, traversing the hallowed halls and jostling with the armies of kitten-heeled Chanel-clad Anna Wintours but it certainly has been entertaining. I love magazines with a great passion and I love design. Design is fun. Writing is hard. Very very hard. Writing is much harder work than design! And the people are zany and we're always working with ideas; what's hot now, what are the latest fashions, music, videos, garments and make up trends. I've always loved riding the wave of What's Hot Now all of which I know is horribly superficial but it's so much fun!
Rotten Peaches is due out later this year, and I understand it will be a bit different than what you've done in the past. Does that make you more trepidatious, or are you just at the normal level of freak-out that an author experiences with a new book?
I am definitely more trepidatious! Although actually, I thought everybody would hate No Fury Like That and it seems to be my most popular book so far. I thought readers would find Julia too much, find the book to be too angry. But instead, people love it and find it hilarious. While I didn't plan to write a funny book, I do recognize the humour in No Fury Like That while Rotten Peaches is much more of a fast-paced noir read.
Rotten Peaches is about obsessive love, racism and greed and I don't think those things are conducive to humour. I wanted the book to be about real human emotion, about uncontrollable lust and desire.
But I will say this. My insights as to what a book of mine is or isn't, have, historically, been unfailingly wrong! So in reality, I will simply have to wait and see and hope for the best. I have worked extremely hard to deliver a good solid book that readers can sink their teeth into and at the very least, I hope they'll enjoy the journey that the book takes them on through South Africa and North America.
You are a member of both Sisters in Crime and Mesdames of Mayhem. How have other women writers in the genre influenced and inspired you?
Writing is such hard work! I realize I just said that for the fourth time! And I couldn't do it without the Sisters in Crime and the Mesdames of Mayhem because they are my tribe, along with a number of other writers who aren't affiliated to either of those groups. I'm also a member of the Crime Writers of Canada and they're an amazing bunch too.
There are so many levels of support that come from belonging to organizations like these. I think the word 'networking' is one we never want to hear again, so instead, I'll say it's a great way to make friends because it's true! I'm a big fan of workshops and try to attend as many as I can. My writing motto is Do One Thing A Day For Your Writing and even if that one thing is picking up a new tip or penning down one new idea, then that's good enough!
I agree with Stephen King when he said 'Read as much as you write." Or did he say that? I think he said something like that! I try to read four times the amount I write. Actually, maybe ten times. I read superfast, I can read a book in a night. I am extremely curious as to how books are written – what POV did a writer use, how did they describe people, places and things, how did they construct the plot, how did they sculpt the punctuation and grammar and have their books improved or weakened on their publishing journey? I generally have about seven or eight library books out at one time and I'm constantly ordering new books. And I go to collect a book, I usually see three more on the shelves that simply have to come home with me!
So yes, in answer to your question, organizations like SIC and the Mesdames are invaluable for the camaraderie, the goodwill, the friendship and the technical knowhow. I cannot thank my author friends enough for reading my work, their feedback and insights are a critical part of the process but their friendship means the world to me.
"I am not a killer. I just fell in love with the wrong man," is a quote from Rotten Peaches.  How much do you think we are defined by the relationships we keep?
I think we are defined by the relationships that we allow to linger in our minds and in our hearts. Those relationships might long since be dead, no more than dust in the wind, a memory only to ourselves but as long as we feed them, they will remain. I like to keep the memory of a relationship alive if it might prove useful for a book.
Sometimes we continue to be hurt by the past and there isn't a lot we can do about it. I don't fully believe we can "put things behind us and move on." There are aspects of our lives that we have no control over and I believe our feelings fall into this category. I've tried very hard to take control of the reins of my emotions only to realize it's a waste of time. For me, it's better to acknowledge hurt and try to live with it, much like keeping a chipped vase in an otherwise perfect room. Of course you could throw the vase out which might help you forget it ever existed but then something will pop up and remind you and the feelings will well up in your heart all over again.
The popular belief about relationships seems to be that things matter as much as you let them matter but I disagree. We aren't machines!
For example, take both Leonie and Bernice in Rotten Peaches. Why didn't they leave those relationships? Because they couldn't. A lot of times in life, a thing has to play itself out, that's all there is to it.
In No Fury Like That, Julia finds herself in purgatory, Amelia in Nearly Girl is studying Joan of Arc for an advanced degree, and I believe Between the Cracks She Fell invokes Salmon Rushdie's Satanic Verses on the first page. Tell us about the role of religious motifs in your writing.
You've hit on a very persuasive theme in my work for sure! I'm a doomed Catholic! I love studying philosophy, theology and psychology. I've studied Buddhism, Islam, Catholicism and many others for my personal edification as well as for my books.
I was expelled from the convent (but later reistated!) and I was historically the only person at our school to be kicked out of the confession booth with my sins unabsolved.
And yet, I am a deeply spiritual person! I would absolutely hate to think we are all alone on this planet with humans as the highest form of beings. I like to feel connected to something out there, something bigger than me. And I know it's there! And to me, it doesn't matter what that deity or thing is called, I'm happy just to know it's there and so yes, I try to work that internal discussion and debate into my work.
Pre-reviews of Rotten Peaches contain words like obsession, sexy, raw, and explosive sensuality. Well, that's two words, but anyway, you get the picture. Are we in for serious romps in this novel? 
We are indeed! But perhaps not quite in the way one might expect. For example, Dirk, the very conservative married man believes he is not being technically unfaithful to his wife but not 'going all the way' with Bernice. What a loser he is! But the chemistry of lust is a very pervasive theme in the book. I've had a peach coloured button made with a bleeding, pierced heart (and both JayRay and Leonie get this tattoo onto rather delicate places), and button's tagline is "I went too far" which pretty much sums up the book. How far would you go, for love? An interesting question, particularly fors a writer when there are no limits or constraints!
Despite the dark places you take us in your novels, they are full of LOL's. Where do you get your gallows humour from? 
That's an excellent question! Excellent because I don't set out to write humour and if you ask me, I'd say I am not funny at all! However, people seem to find both me and my books humorous. I have rather a dark view of the world but instead of being bitter, I am naively perplexed and confused by things. I definitely get the wrong end of the stick a lot of times in social conversations – I'll be all earnest and I'll say something unintentionally strange which initially confuses people but then they crack up as if I set out to make a joke! I've tried really hard to check my own brand of observations at the door but there's nothing I can do to stop them from escaping! And this, my somewhat warped way of processing reality, morphs its way into humour in the books.
What is on your bedside table right now? I'm thinking specifically of books, but we are also interested in any other objects. You know, that inquiring mind thing.
Ha! A very strange collection of objects! Okay, here you go – unedited!!
2 x lavender sachets which I keep meaning to put inside my pillowcase but forget
A pink and white jar of Emu cream with Vitamin E oil from Australia
SweetLeaf Vanilla Sweet Drops to add to my bedtime glass of water
White Flower Analgesic Balm (to rub on my neck when I have a migraine)
Lavender Organic Hand Sanitizer
Benylin Cough & Chest Congestion (in case I get a cough in the night. An unusual occurrence but you never know!)
Sun Bum Coconut Lip Balm
Thymes Vanilla Ambrette Body Lotion
Biotherm Eau Soleil (it makes me think it's summer even in the dead of winter!)
Thierry Mugler Angel Perfuming Body Lotion
Three lucky stones from somewhere
A small Leg Lamp (like the one in A Christmas Story)
A rope bracelet my husband gave me on Mount Rangitoto in New Zealand
A sparkly blue round decal that I found somewhere
A pen, a bulldog clip and several rubber bands, a tiny notebook and a pad of yellow postit notes.
Now that I look it, it's a bit of an odd collection! I see a lavender theme happening!
That's the top shelf. The bottom shelf has one of my to-read piles:
Do Not Say We Have Nothing by Madeleine Thien
The Whiskey King by Trevor Cole
Barkskins by Annie Proulx
Existentialism and Human Emotions by Satre
In The Bear's House by Bruce Hunter
Tender in the Age of Fury by Brandon Pitts
Blood Meridian by Cormac McCarthy
The Pumpkin Eater by Penelope Mortimer
Find out more about Lisa and her books at these links!
Links:
Author website: www.lisadenikolitswriter.com
Twitter: @lisadenikolits
Facebook: www.facebook.com/lisa.denikolits
Facebook Author Page: https://www.facebook.com/lisadenikolitsauthor
Instagram: http://www.instagram.com @lisadenikolits
About The Author
Carole Kennedy is an Edgar nominated thriller and crime writer who publishes under her Irish name, C.S. O'Cinneide (oh-kin-ay-da). Her novels include the Camino thriller, Petra's Ghost, and the Candace Starr crime series.