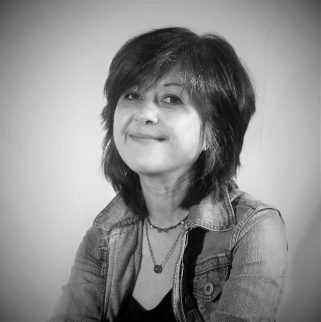 Interview with R.M. Greenaway
BIO
RM Greenaway began writing crime fiction some years ago, while northbound on the Greyhound. Work as a court reporter in the remoter parts of BC often took her on the road. Usually she got around by car, but the occasional blizzard would force her onto the bus. Which was good, as being a passenger gave her time to kill — and what better way to kill time than think up cat-and-mouse stories?
Street names became character names as the bus passed through towns and villages, and the blizzard became the setting for her first book, Cold Girl. She scribbled and scribbled, finishing one novel and starting another, and after many years of trial and error, queries and rejections, she submitted to the Arthur Ellis Awards for best unpublished novel, and Cold Girl won first place, which led to a contract for three books, which became the BC Blues crime series. She was agog that she had finally made it to print, and still is, with three books published and three more in the works.
R.M. Greenaway will be part of the line-up of great authors this coming weekend at the annual Women Killing It Crime Writers' Festival in Prince Edward County (Aug 31-Sep 2). For more information go to:  https://womenkillingitauthorsfestival.wordpress.com/
Sometimes you make jewelry when you're not making stories. What other things do you like to do when you're not writing?
Where to begin… Read, draw, socialize, garden, cook, renovate, take pictures, camp, hike, travel, watch movies, sit and do nothing, are the main ones. But lately a favourite is get up really early and go outside, sit on a bench with my cat and a mug of coffee, and … scheme.
Your first novel Cold Girl takes us to the beautiful but often bleak wilderness of remote British Columbia.  Are you a wild girl rather than a city girl?
I've spent time in both worlds, and love the excitement and drama of the city. I also love the drama and excitement of the wilds. I'd be happy in either environment, but what I like best is living in the wilds (relatively speaking) and writing about the city. Vice Versa would work too.
Your writing has been described as "police procedural with a hint of fabulism." I'm ashamed to say that I had to look that word up. According to Wiktionary, it is "a form of magic realism in which fantastical elements are placed into an everyday setting."  And not a tendency to be fabulous, as I thought. Tell us how this literary element comes to play in your writing.
As you say, the word is misleading, as it suggests fabulous as in 'I'm so great', but fantastical elements in an everyday setting is really what it's about. It's a word I discovered when I was worrying one day that that there was some element of surreal about my novels, and wondered if that's a strict no-no in a police procedural. Then I realized life is surreal — just watch the news — so some fabulism in any fiction is natural enough. To tell the truth, I'm not sure the word is an apt label for my work, but it's as close as I could get. And if there is a fabulism spectrum, I'd say my stories fall on the "mild" end.
Dion, the cop working with traditional detective Dave Leith is such a cliché busting character with his lingering head injury and memory problems. What was your inspiration for him?
Years ago when I began the series I headed it up with a strong female lead character, but found myself gravitating to her troublesome subordinate, who became Dion. His backstory developed because keeping him scrambling is lots of fun. I was also inspired by reading about head trauma, and how it can alter one's personality — not always for the worse. One of Dion's challenges is he pines for life as he knew it before the crash, which keeps him from moving forward. One of my challenges is how to keep him moving forward in spite of himself.
By the way, my original female lead perished along the way, but I've brought a female co-lead into the mix who I like more, JD Temple. I'm happy to say she inspires me, so she's here to stay.
In Undertow, the second book in the series, we get a down and dirty view of the Lower Mainland with shady nightclubs, former strippers and underlying violence that "flows like a riptide."  Does the setting often act as another character in your novels?
Absolutely, and I think most if not all writers would agree. Sometime a scene I'm working on feels sluggish, and I'll realize it's because the setting hasn't crystalized in my mind. Once I've fixed that and found some riveting aspect of the terrain to set the characters against, dialogue and action seem to flow. Yes, setting is not only a joy to paint into every scene, to me it's essential.
On the subject of strippers, if you were an exotic dancer what would be your stage name be?
Rozotica. That's the title of my short story in the just-released "The Dame was Trouble," an anthology of noir fiction by Canadian women, produced by Coffin Hop Press (August 2018). Check it out! And thanks for giving me the perfect chance to plug the book, Carole!
You worked as a court reporter. Some people would want to know the most remarkable case of crime you ever covered, but I want to know the funniest. Stupid criminals in particular amuse me.
I love stupid criminal exploits too, when they pop up in the media. If I had another life, I'd like to write Dortmunder-esque novels. I'd love to be an LOL writer.
In real life I haven't taken down any court proceedings you'd call funny, though some witnesses (or judges or lawyers) are hilarious, often not intentionally so. And the dialogue is fantastic fodder for a writer.
The more remarkable cases are sometimes the more mundane, too. Small claims or family cases can be just as fascinating as the major murder trials – believe it or not.
Creep, published this year, is your third novel to feature the mismatched Dion/Leith detective duo. Are you working on a fourth book for the series, or something else right now?
My fourth in the series, Flights and Falls (Spring 2019), has just gone through the final proofing stage, and I'm writing the fifth, with a working title "River of Lies". This one's my favourite, but then they all are while in progress –not so much after the umpteenth edit and proof.
I've also got a couple of short stories coming out this year in two different noir anthologies, "The Threshold", in Vancouver Noir (Nov 6 2018), edited by Sam Wiebe, and as mentioned above, "Rozotica" in The Dame was Trouble. Short stories are a nice break from novel writing.
Cold Girl won the 2014 Arthur Ellis Unhanged Award sponsored by Dundurn Press, Canada's largest independent publisher.  What's it like working with an Indie press?
It's great. I'm not sure I'd survive the rigours of one of the giant publishing houses. Dundurn has been really good to me. They take care of the hard part, that is getting the books in print and out there, leaving me to do what I love most: keep writing.
What is the next book that you want to read and why?
I'm a fan of the Ann Cleeves TV series, but only recently am reading (via audio book) one of her Vera Stanhope novels, and it's leaving an impression. Along with downright enjoying the story, I think I could learn a lot from her writing style. So I'm going to pick up another Ann Cleeves, and this time in old-fashioned book form.
For more on R.M. Greenaway, check out her website at https://rmgreenaway.com/
About The Author
Carole Kennedy is an Edgar nominated thriller and crime writer who publishes under her Irish name, C.S. O'Cinneide (oh-kin-ay-da). Her novels include the Camino thriller, Petra's Ghost, and the Candace Starr crime series.