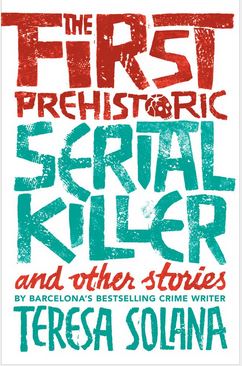 The First Prehistoric Serial Killer & other stories By Teresa Solana
What a great bunch of fiction, well written and witty, and full of unnatural death. You can't ask for much better entertainment for a girl like me. Teresa Solena is one of Spain's best known crime writers, and while her stories are often dark, they are always funny. And none of that humour gets lost in the translation.
The title tale follows the antics of a bunch of Neanderthals. These are real Neanderthals, as opposed to the group of simians on a street corner that made tongue gestures at you the other day as you walked to work.  There are a fair number of dead bodies piling up at the mouth of the cave, and the story's primitive P.I. can't figure it out. Then again, he only figured out fire recently, and that was by accident, so I didn't have much faith in him.
The author moves from this enjoyable start to bring us more delightful and devious characters. There are avenging and murderous mothers, deadly artists, and ghosts that watch the living copulate for a bit of "home-spun porn." I particularly enjoyed the story of a reformed vampire who ventures out during the day armed with sunscreen. He tries to protect the people of his village, rather than defiling its virgins, but ends up responsible for more gore than Vlad the Impaler.  This first section of the book is labeled Blood, Guts, and Love, and Solana dishes out an ample serving of each.
The second part of the book is a previous award-winning body of work titled Connections.  It contains a selection of stories either set in, or with a distinct link to the author's beloved hometown of Barcelona. Each story is connected in some way to the others, not in a linear progression, but more in a "Where's Waldo," can you spot it, sort of approach.  Solana makes a point of challenging the reader in the preface to find the relationships. This is crime fiction where you not only get to solve the murder, but a literary puzzle as well.  It's like the writer has left Easter eggs for us to find under the sofa cushions, except they are under bullet -riddled corpses. Once again, my kind of entertainment.
There are several books available in the English translation by Teresa Solana, including her crime novels, so well loved in Spain. There's a connection between that and my new novel, Petra's Ghost to be published via Dundurn Press this July 2019.  Write in the comments, if you know what it is.
In the meantime, check out more books from Teresa at :https://www.bitterlemonpress.com/blogs/authors/19585859-teresa-solana
About The Author
Carole Kennedy is an Edgar nominated thriller and crime writer who publishes under her Irish name, C.S. O'Cinneide (oh-kin-ay-da). Her novels include the Camino thriller, Petra's Ghost, and the Candace Starr crime series.