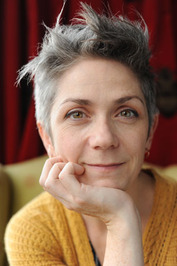 Interview with Denise Mina
Bio
After a peripatetic childhood in Glasgow, Paris, London, Invergordon, Bergen and Perth, Denise Mina left school early. Working in a number of dead-end jobs, all of them badly, before studying at night school to get into Glasgow University Law School.
Denise went on to study for a PhD at Strathclyde, misusing her student grant to write her first novel. This was Garnethill, published in 1998, which won the Crime Writers Association John Creasy Dagger for Best First Crime Novel. She has now published 12 novels and also writes short stories, plays and graphic novels. In 2014 she was inducted into the Crime Writers' Association Hall of Fame.
My grandfather, Alec was born in East Kilbride in 1888. Do you know him?
Yes, but he's ghosting me now.
In your play, A Drunk Woman looks at a Thistle, is the drunk woman you? Regardless of the answer to that question, what do you make of the Scottish identity after a few Cosmopolitans?
It's intense! We do everything to extreme here and drunk seems to be the only way to analyse it properly. Also drunk can be viciously honest, which is the only way to look at the nonsense Scottish people claim about ourselves. It addresses such taboo issues as, in the lines of the play 'We are fat, we are small, we are shit at football'
You were researching a PHD thesis on mental illness and female offenders when you wrote your first crime fiction novel, Garnethill. How did that inform the development of the story's protagonist, Maureen, a former psychiatric patient? 
I wanted to use the narrative paradigm, the idea that narrative is more compelling than facts, to disseminate the ideas in my thesis. The ideas were that having lost agency didn't mean losing rationality or personhood. I knew as I wrote it as a dissertation no one else would read it but as a crime novel loads of people would.
 Is Tartan Noir a thing? 
Bizarrely enough, yes, it is. We may not all write the same sorts of crime novels, but we are a bit of a gang and have largely the same ethos which is: we're not literary writers, we don't do the 'close to God' performance of writers and we try to remain part of our community.
Were you the class clown growing up?  For a woman who writes some dark bloody noir, you are just so damn funny.
Hahaha! not to everyone! Just you and me. I was the class clown but spent a lot of time outside the class wondering what the hell I did wrong. I did a reading in a sea side town in Scotland and a woman turned up with a bottle of tipped. She handed it to me and we both burst out laughing because when we last met, we were in maths and I'd drawn all over my face with Tipp-Ex and got thrown out. (Editor's note: For us North American types, Tipp-Ex is like our Wite-Out correction fluid)
Your portrayal of Glasgow's criminal underbelly made me fearful I'd be stabbed with a bagpipe blowstick when I visited there this past fall (everyone was really nice, by the way).  Why do you think Glasgow came to be known as the "murder capital of Europe," and how is that changing?
It had a terrible heroin problem in the mid '90s and there has always been a lot of violence. Its much much safer now though, but the murder rate used to be very high because of alcohol.
Detective Alex Morrow and aspiring copy girl Paddy Meehan each feature in a crime series of yours. Both are women with gender ambiguous names. Was that intentional? A coincidence? Is this a stupid question?
Paddy wasn't deliberate but Alex was. I can't remember why I did that, tbh (Editor's Note: This was, indeed, a stupid question)
Your latest book, A Long Drop, is your first foray into true crime. It follows the details of Peter Manuel, a serial killer operating in Glasgow in the 1950's. What drew you to his story?
I read a true crime book about it and it had a single line I couldn't stop thinking about: "…perhaps the oddest part of this very strange story was that the murderer and the father of the murdered family met for a drink one evening and spent 12 hours together. No one knows what happened." I could not stop thinking about those events and what happened.
In 2006, you took a turn writing DC Comic's Hellblazer featuring magician and occult detective, John Constantine. If you could have one supernatural gift, what would it be, and would you use it to set Donald Trump's hair on fire?
Id like to propel Drumph into the future for a night so he can see what happens to him. HA!
To learn more about this rock star of noir and her books, go to http://www.denisemina.com/
About The Author
Carole Kennedy is an Edgar nominated thriller and crime writer who publishes under her Irish name, C.S. O'Cinneide (oh-kin-ay-da). Her novels include the Camino thriller, Petra's Ghost, and the Candace Starr crime series.