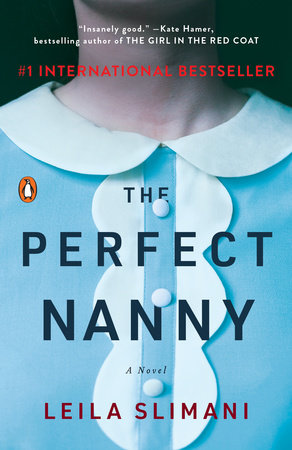 The Perfect Nanny by Leila Slimani
I am really getting into these English translations. As with The First Prehistoric Serial Killer by Teresa Solana, The Perfect Nanny was originally written in another language. In this case, French rather than Spanish. The author is Moroccan born but Parisian living, Leila Slimani. She won France's most prestigious literary prize, the Goncourt for this book and was the first Moroccan woman to do so. Proust and Simone de Beauvoir are other past winners, so hey, not too shabby, Leila.
As may be surmised from the title, this is a story of a caregiver brought in to take care of children.  And yes, at first, she is perfect. Louise stays late with no complaint, plans idyllic birthday parties, and keeps the apartment spotless for her employers, Myriam, a French Moroccan lawyer, and her husband, Paul. Louise cooks gourmet meals, performs magic tricks for the children, and drips with the glitter of numerous stimulating yet tidy arts and crafts project at the end of the day. She never gets tired or frustrated.
Don't you hate her already?
Prior to this, Myriam was doing okay as a stay-at-home mom, but had come to feel isolated and unfulfilled. Motherhood is one of those jobs that you can never really achieve without an underlying sense of failure, I think. Particularly when you have one of those friends who posts her flawless family life on social media, with impeccably dressed children who smile beatifically whilst darning sock puppets.  This is because people don't post pictures of a mother reeking of baby spit-up, half asleep as she leans on a double stroller in a coffee shop line-up while a toddler screams for chocolate. I think a lot of stay-at-home moms would fair a lot better if they did.
But as you have also possibly surmised, this nanny ends up being less than perfect. In fact, Louise ends up being downright terrifying. And as Myriam gets over the initial guilt and worry of leaving her children with another woman during the day, she begins to realize that something is not quite right with her Mary Poppins stand-in. Perfection is a suspicious attribute, particularly when it comes to child rearing. The day-to-day care of children is not a walk in the park, but a full contact sport.  There are bound to be spills.  A spotless life should be your first indication of a psychopath. Or maybe I am just saying that because I hate housework.
While this book lays out every parent's worst nightmare, it also beautifully renders the agony and ecstasy of being a mother, in such a way, that you can tell the author is drawing on personal experience.  Slimani has definitely been the one with the stroller and a screaming toddler in the coffee shop line-up, questioning whether she should go back to work. She also seems to know what it is to have a career that grounds you as a thinking woman, yet plays tug-a-war with you as a feeling mother.
But you don't have to be a parent to appreciate this book, just anyone who loves a good thriller and has a suspicious eye for perfection. The devil is in the details, and sometimes she is in the glitter glue, planning her next move with a sock puppet on her hand.
To find out more about Leila Slimani and her books, go to https://www.penguinrandomhouse.com/authors/2146382/leila-slimani
About The Author
Carole Kennedy is an Edgar nominated thriller and crime writer who publishes under her Irish name, C.S. O'Cinneide (oh-kin-ay-da). Her novels include the Camino thriller, Petra's Ghost, and the Candace Starr crime series.