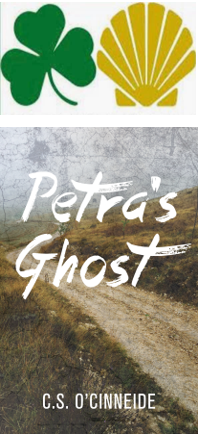 Petra's Ghost – Irish and Camino Trivia Time!
Well, it's less than a week before my dark thriller, PETRA'S GHOST hits the shelves here in Canada (a month later for you Yanks and Brits).
So, since the novel follows Daniel, an Irish ex-pat who walks the Camino de Santiago, I thought we'd have some Irish and Camino themed trivia to celebrate.  How many can you answer correctly without using Google or divine intervention?
In the book, Daniel is walking the Camino Frances route from St. Jean Pied de Port in France to Santiago. How many kilometers/miles is that approximately?
In what year did the partition of Ireland occur resulting in splitting the isle between two countries, Northern Ireland (UK) and the present-day Republic of Ireland?
How many Irish born writers have won the Nobel Prize for Literature?
What well-known feature of the night sky does the Camino de Santiago roughly follow?
PETRA'S GHOST is written by C.S. O'Cinneide (oh-ki-nay-da). O'Cinneide is the original version of what well-known anglicized Irish surname?
If you walk at least 100 km of the Camino, you can receive your Compostela certificate from the Pilgrimage Office in Santiago. How many people received the Compostela last year? 11,321?  168,623? Or 327,342?
There are starting points for the Camino de Santiago in many countries across Europe. In Ireland the traditional starting point for the Camino is at the medieval gate of what city?
The Camino de Santiago is a pilgrimage to the Cathedral of St. James in Santiago. When is St. James' Day?
The answer to #7 is where one of Ireland's most famous frothy exports has been made since 1759. What is that export?
What name is used for the pilgrim hostels on the Camino de Santiago?
What screeching female spirit of Irish myth foretells the death of a family member?
What movie took place on the Camino de Santiago and starred Martin Sheen and his son, Emilio Estevez?