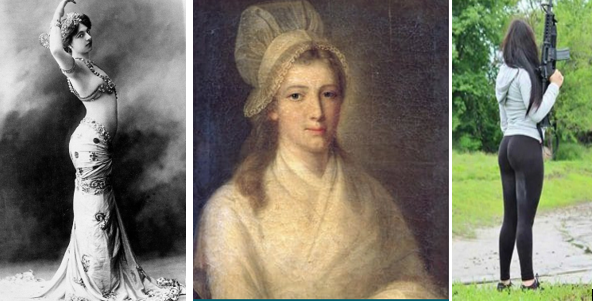 Searching for a Hitwoman
When I set out to write an article about famous hitwomen from history, I didn't think I'd have such a hard time finding any. When I googled it, I ended up with a lot of grainy black and white photos of dour women who poisoned people they didn't like.  Legend has it that Lucrezia of the infamous Borgias clan used a hollow ring containing fatal toxins for the purpose, dispatching guests who disagreed with her at dinner parties. While this may seem like a useful tool when faced with an alt-right buffoon over crab puffs, it still doesn't qualify as murder for hire.
Wikipedia, of course, has a "Contract Killer" entry. The famous assassins on the list are all male, such as "Mad Dog" Coll, Salvatore "Sammy the Bull" Gravano, and Benjamin "Bugsy" Siegel. Either women of this vocation are rare, or they are just good at avoiding lists, along with unattractive nicknames.
But since my novel, The Starr Sting Scale (due to drop this month) features a sassy six -foot-three hitwoman named Candace Starr, I felt compelled to write on the subject of lethal women for hire. There had to be some ladies out there that offed people for more than a poisonous thrill or to avoid the discussion of politics?
So, I did some more digging.  And as is often the case with crime writers, this is when the bodies turn up. The following women were responsible for more than a few of them.
Mata Hari
Perhaps one of the most well-known of the female spies, this Dutch faux-Middle Eastern temptress never actually killed anyone by her own hand. But the intel she passed to the Germans did, leading to the demise of 50,000 French soldiers in WWI. Famous across Europe for her "dance of the seven veils" where the seventh left nothing to the imagination, rumour has it she flashed her naked body at her firing squad in a bid to distract. They shot her anyway.
Đoàn Thị Hương
This Vietnamese national was one of two women charged in 2017 with the assassination of Kim Jong-nam, after using the deadly nerve agent, Ricin. The women claimed they'd only been participating in what they thought was a TV show prank. One in which they were required to spray the half-brother of North Korean leader Kim Jong-un with an unknown substance and then hold a handkerchief over his face. To this day, "Just for Laughs-North Korea" does not appear to have aired the special.
Marie Sukloff
Marie was a Russian peasant in the early 20th century, which was a particularly lousy gig, emphasis on the louse.  When a bomb thrown at Governor General Fyodor Dubasov by her compatriot failed to go off in the heavy snow, she retrieved the explosive and tossed it into Dubasov's carriage to complete the hit.  This shows that women have been relied on to pick things up and put them in their proper place from at least the Edwardian era.
Charlotte Corday
Marie-Anne Charlotte de Corday d'Armont, a French aristocrat, was executed for assassinating the radical journalist, Jean-Paul Marat, who she felt was turning up the heat on the trash fire that was the French Revolution at the time. Blaming him for the September Massacres that saw 1200- 1400 prisoners killed, Charlotte stabbed Marat to death while he partook of his medicinal bath. This, to my mind, is about as bourgeoisie a death as you can get.
Claudia, The Empress of Antrax
Claudia Ochoa Félix, was known as the "Kim Kardashian of Organized Crime" due to her propensity for taking belfies alongside AK-47's and posting them on the internet. Before her death, she was thought to be the head honcha of Los Ántrax, a deadly enforcement wing of the Sinaloa drug cartel, responsible for more than one pair of concrete huaraches. Women like Claudia are becoming increasingly more common, as the cartels run out of men to hire who they haven't killed yet.
For more information, go to my sources for this article. And if you were truly "searching for a hitwoman" I'm sorry, I can't help you. I only write about them.
https://en.wikipedia.org/wiki/Contract_killing
https://www.telegraph.co.uk/women/life/7-deadliest-female-assassins-history/
https://www.ranker.com/list/historical-female-slayers/melissa-brinks
https://en.wikipedia.org/wiki/Charlotte_Corday
https://www.thesun.co.uk/news/9954708/el-chapo-kim-k-female-assassins-mexico-drugs/
https://nypost.com/2019/09/20/el-chapos-kim-kardashian-of-organized-crime-died-from-drug-overdose/