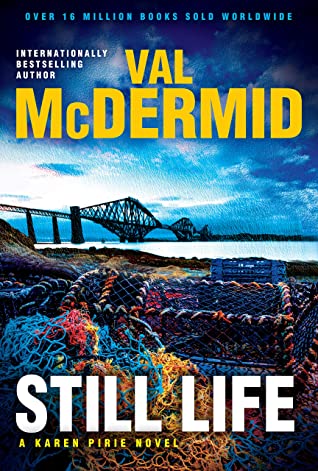 Still Life by Val McDermid
Still Life begins with a corpse being pulled out of the Firth of Forth by a group of lobster fishermen. Definitely not your typical catch of the day. The body belongs to a man who was a suspect in his brother's disappearance and probable murder over a decade ago, but he did a runner when the cops started to close in. Since that time, he has moved to France, served in the foreign legion, joined a jazz band, and got himself killed, all in that order. The last one being arguably the most questionable choice.
But the man in the Forth is not our only mystery. A skeleton is discovered inside a camper van parked in the garage of a suburban home. While the suburbs can be tedious, people rarely die from boredom there. People also rarely fail to notice dead bodies parked between a garden rake and that stationary bicycle they never use. We might ask the homeowner for details, but she's been recently killed on the motorway while riding her bike. Which just goes to show she should have stuck with a stationary one.
Enter Detective Karen Pirie, a lover of cardamon coffee and justice for the dead.  She's an expert in solving murders where the trail has gone cold, and soon finds herself hot on the trail of both victim's killers. Each case has a unique and fascinating path that will lead to secret identities, art forgeries, and the consumption of some exceptional baguette while in France.
This is the sixth book in the Detective Pirie series, penned by the award-winning Val McDermid, a long-time noble among crime fiction royalty. I'm ashamed to admit that I hadn't read books 1-5, but I intend to rectify that soon. It's a testament to the author's skill that I could come so late to the Detective Pirie game and not find one confusing play.
McDermid is a master at both language and plot, effortlessly switching between the two story lines. Her characters are authentic, multi-layered, and the atmosphere quintessentially Scottish.
"Sometimes in winter the wind was sharp as a sushi knife, cutting straight through streets and alleys. Other times, like tonight, it swirled around and changed direction, doubling back on itself like a burglar casing the streets, looking for an easy target."  (Still Life, p. 366)
I was captured from the very beginning, worse than a lobster netted in the Forth. Highly recommended.
To find out more about Val McDermid and her books go to https://www.valmcdermid.com/
About The Author
Carole Kennedy is an Edgar nominated thriller and crime writer who publishes under her Irish name, C.S. O'Cinneide (oh-kin-ay-da). Her novels include the Camino thriller, Petra's Ghost, and the Candace Starr crime series.