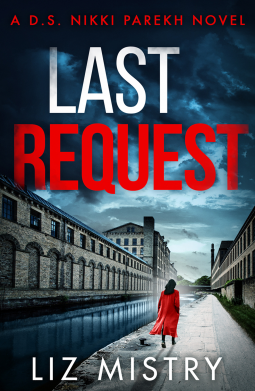 Last Request by Liz Mistry
Liz Mistry has a new fan.
I was already a hard-core devotee of Tartan Noir via Denise Mina (interviewed here at She Kills Lit), but after reading Liz Mistry's Last Request set in West Yorkshire, I have a whole new geographic subgenre to savour. I'm going to call it Tweed Noir, crime fiction guaranteed to blow your flat cap off.
Last Request is the first in a series featuring Detective Sergeant Nikita Parekh, who lives in Bradford and most definitely never wears tweed, or a flat cap. Nikki is tough, yet intrinsically flawed, sort of like that "diamond in the rough" we keep hearing about. But I wouldn't want to see anyone polishing her up. As a mother of three, she is damn good at a job she loves, but like many women in this situation she finds her kids often get the wrong end of the career-life balance stick.  I saw a couple of reviews where people had a problem with this. In the words of my Scottish nana, "Quit your wingein','" – we need more working mother characters like this where the woman hasn't figured everything out.  I'm sick to death of the supermom motif, and besides it's so last millennium.
We also need more characters of colour, or ethnicity or whatever you want to call not writing books about a whole bunch of white people of privilege. Nikki Parekh is neither white nor privileged.  She's of dual heritage and lives on a housing estate where sleazy punks try to get her nephew to deal molly.  Throughout the book she comes into contact with people of varying cultural backgrounds, sexual preference, and social standing. That makes for a rich human landscape in a novel. But here's the best part — there's not one cliché across that panorama. This is what makes this gritty noir particularly scenic, it's realist painting of a life mosaic that includes more than one view.
Okay, enough of my over-intellectualized musings on sociocultural motifs in crime fiction. If DS Parekh read the last paragraph (or the previous sentence) she would probably deliver a swift backhand while telling me to get to the damn point. And the damn fine point here is that this is a terrific story, exciting and enticing, with well-crafted writing and wonderful characters, including the killer, who we get to hear from periodically in a first-person narrative. Despite having all the clues required, I didn't guess the identity of the murderer until revealed at the end, and that usually means I was having too much of a rousing romp reading the book.
Tweed Noir. I like the sound of it. Don't forget to give me credit for this term if it ever catches on. As I'm sure the DS Nikita Parekh series will for Liz Mistry.
To find out more about Last Request and other books by the same author, go to https://lizmistrycrimewriter.wordpress.com/